Bio / CV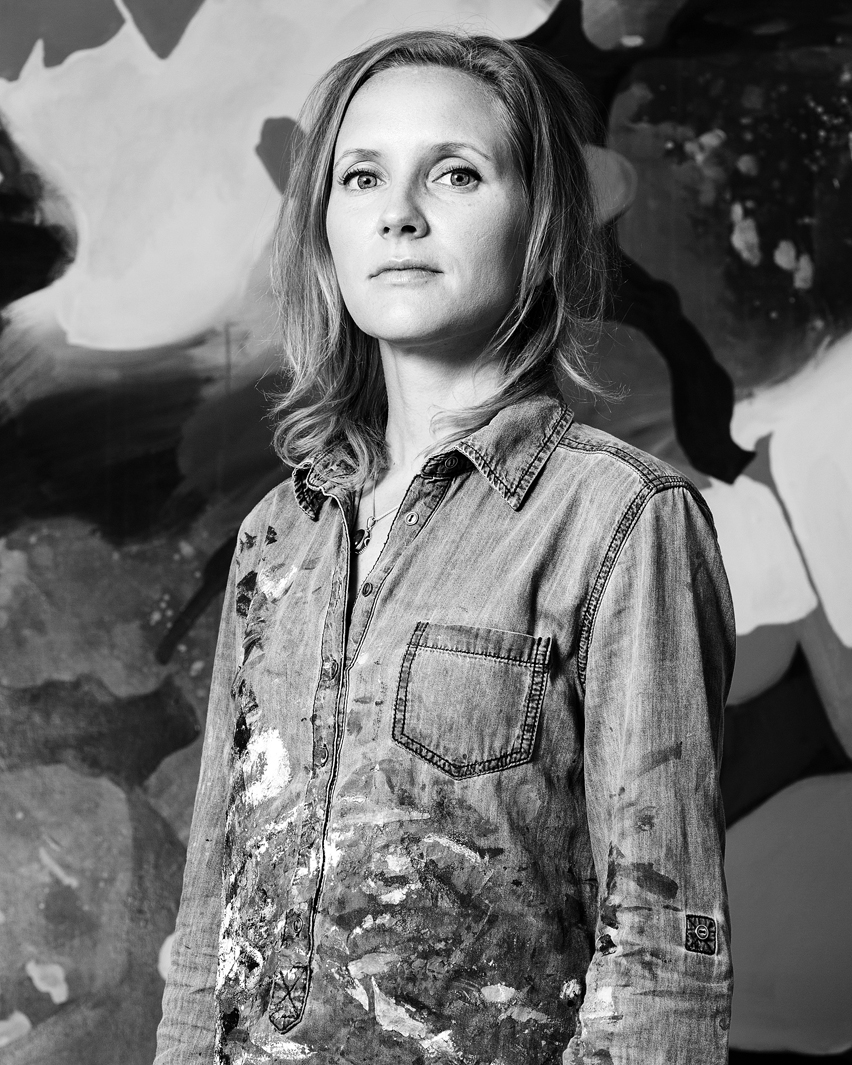 "The dichotomies inherent in painting sometimes present a visual or conceptual challenge through which an artist's entire practice can finds its purpose. Tonje Moe considers it her mission to strike a balance between order and disorder, harmony and harshness, trust and fabrication. In her paintings, geometric forms are placed within an indefinable space and are thus isolated from a sense of representational authenticity. Her work have a hallucinatory quality that causes the viewer to oscillate between foreground and background, reality and reverie, architecture and nature. (…) She incorporates abstracted organic imagery into her work, usually confined within the borders of her geometric objects. This simultaneous appreciation for architectural structure and organic fluidity manifests itself clearly. It is by juxtaposing seemingly opposite visual identities that the work takes on a complex and multilayered meaning."
–100 Painters of Tomorrow, Thames & Hudson, 2014
Name: Tonje Moe
Born: 4th of July, 1978
Place of birth: Trondheim, Norway
Currently lives and works in Gratangen, Northern Norway
Education:
Monash University, Melbourne, Australia, 2005 – 2007: MA of Visual Arts – High Distinction
Robert Gordon University, Aberdeen, Scotland, 1997 – 2001: BA Hons. Design & Craft – 1st Class Honors
Grants / awards / commissions:
2015: Public commission for the new  'Penguin Hotel' at The University Hospital of Northern Norway (UNN)  in Tromsø. She is one of 16 artists asked to participate. Completion of building / artworks: Spring 2015
2014: Public commission for Statnett's headquarters in Narvik. Created a wall mounted artwork using a foliage technique. The piece covered two walls, each 8 metres x 2.10 metres.
2014: Høstutstillingen: This autumn, Moe made her debut at Høstutstillingen (the Annual National Art Exhibition) – Norway's largest marking of contemporary art. She was one of 81 artists selected from 2258 applicants. Her pieces 'Unpredictable Periscope' and 'A New Age Lab Experiment' were exhibited at Kunstnernes Hus in Oslo from the 13th of September 2014.
2014: 100 Painters of Tomorrow: Featured in the publication 100 Painters of Tomorrow, authored by Kurt Beers and published by Thames & Hudson this autumn. The 100 chosen artists, selected from more than 4,300 entrants, come from over 37 countries. Entries were judged by an international panel featuring some of the most prominent names in contemporary art, including the painter Cecily Brown, curators Tony Godfrey, Yuko Hasegawa and Gregor Muir, and writer-critics Suzanne Hudson, Barry Schwabsky and Philip Tinari. Tonje's work 'Freedom in a Box' was selected for the  sleeve of the book.
2013: Public commission Eni Norway: Selected as one of eight artists to decorate the Goliath platform in the Barents sea and Eni office buildings in Hammerfest. Tonje was selected due to her "highly independent artistic expression of spacious composition and abstracted forms."
2012: Grant from Norske Billedkunstnere (Government visual arts funding)
2008: Shortlisted for the Black Swan Award for portraiture, Australia.
Tonje's work is represented in private collections in Australia, the UK and Norway.
Exhibitions:
"Christmas exhibition", group show, Galleri Ismene, Trondheim, Norway, 2014 

"100 Painters of Tomorrow" Book Launch, group show, One Art Space , Tribeca, New York, 2014 

"100 Painters of Tomorrow" Book Launch at Christie's, group show, London, UK, 2014
"Høstutstillingen", the Norwegian Annual National Art Exhibition, group show, Oslo, Norway, 2014
"Arctic Expressions", group show for Eni Norway commission at VERK, Hammerfest, Norway, 2013
"Freedom in a box", solo show, Kråkeslottet, Senja, Norway, 2012
"Synchronicities", the Arctic Centre, group show, Gratangen, Norway, 2011
"Twitter Art Exhibit", group show, Moss, Norway, 2010
"Change", solo show, Kenthurst Galleries, Sydney, 2009
"The 550 show", group show, Kenthurst Galleries, Sydney, 2008
"Imagine", solo show, Darlinghurst Gallery, Sydney, 2007
"In between", solo show, Delshan Galleries, Melbourne, 2007